Premium Cloud Connectivity
A bespoke solution that offers resilient and low latency regional connectivity
PrimeXM has created a bespoke solution that offers resilient and low latency regional connectivity to rapidly emerging markets such as South-East Asia, South/North America, Africa, Middle East.
PrimeXM's Cloud connectivity service adds a level of resiliency to a sophisticated DDoS attack. The solution overcomes regional internet connectivity challenges by deploying a private connection from PrimeXM's hosted infrastructure in all 4 major Financial centers LD4, NY4, TY3 and SG1, to the leading Cloud providers. We are leveraging this to create a tailored solution that complements Brokers existing trading infrastructure and give them possibility to expand in distant regions without compromising quality of their service. Brokers can deploy multiple cloud regional access points connected back via dedicated leased lines back to their MT4/MT5 trading servers. Expanding into remote regions can now happen via stable connections and optimal low latency routes.
A Brokerage has their MT4/MT5 Servers is in Netherlands. Major product offered are FX, Metals, CFDs, Indices, Commodities and Stocks.
Brokers Client base is mainly concentrated in South East Asia, Africa and Middle East.
The Broker is looking to expand into South America and to optimize traffic from Mainland China.
Broker is using 4 LPs and 1 data vendor. All providers are streaming and executing from London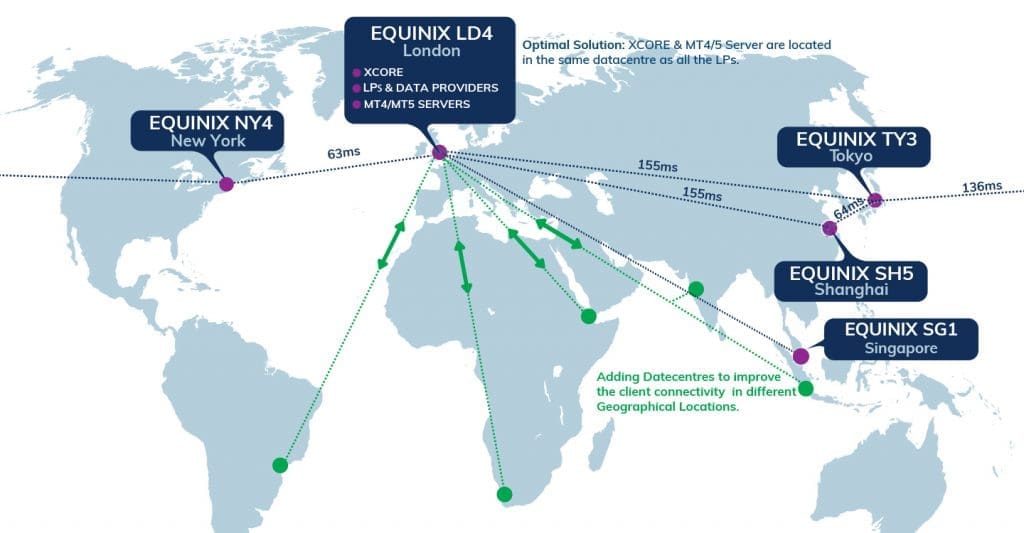 The most optimal setup for the Broker in this case would be:
Broker to take dedicated hosting from PrimeXM and place their MT4/MT5 servers in Equinix LD4. XCore system to be used connecting seamlessly all LPs, data vendors and execution Brokers. This way sub-millisecond latency to price feeds and execution will be achieved. Stops and Limits orders in MT4/MT5 servers will be triggered and executed on most recent and accurate price.
Deploy and utilize multiple MT4/MT5 data centres (DC servers) globally, managed by PrimeXM in South East Asia, Middle East, and Africa. This will optimize the traffic back to Brokers. main trading servers and LPs via redundant leased lines.
Further DCs in South America, South Africa to be deployed. Broker to consider implementing an enterprise firewall solution to protect from malicious traffic and manage their security of their main trading server.
Broker to deploy PrimeXM's proven low latency and stable China Connectivity solution, optimizing traffic from mainland China back to LD4.
Premium Cloud Connectivity Regions
| Connectivity Regions | Locations |
| --- | --- |
| | India (Mumbai), Malaysia(Kuala Lumpur), Singapore, Indonesia (Jakarta), Hong Kong |
| | Japan (Tokyo), South Korea |
| | |
| | |
| | |
| | |
| | |
| | United Kingdom (London), Ireland (Dublin), France (Paris) |
We can help you identify the most sophisticated solution for your business and answer any queries about our products and services. Request a call back and one of our advisers will be in touch.