2
min read
In the realm of high-frequency, high-volume trading, every millisecond counts. At the intersection of dedicated server technology and financial services, PrimeXM offers a revolutionary solution: bare metal servers optimised for PrimeXM's XCore and for robust, cost-efficient colocation.
Understanding Bare Metal Servers
Unlike virtual private servers or shared hosting, bare metal servers provide a physical, single-tenant server environment. This type of hosting is favoured for its performance, security, and control; due to these aspects, it is rapidly becoming an integral part of many financial institutions' multi cloud strategy.
Optimised for XCore and Colocation
The engine that drives numerous financial institutions, PrimeXM's XCore is renowned for its capabilities in the trading industry. When it comes to the performance-critical environment of trading, XCore-optimised bare metal servers offer a formidable advantage compared to the standard solution. These servers provide a dedicated environment for your trading activities, assuring peak performance, and consistent uptime.
Cost-Efficient Colocation
Colocation, or "colo", refers to the practice of housing privately-owned servers and networking equipment in a third-party data centre, such as the financial hubs found within specific Equinix data centres. Opting for rack space colocation, such as PrimeXM's cost-efficient colo rack space, eliminates the need to maintain your own data centres and offers access to cutting-edge, ultra-low latency infrastructure hosting services.
PrimeXM's Global Presence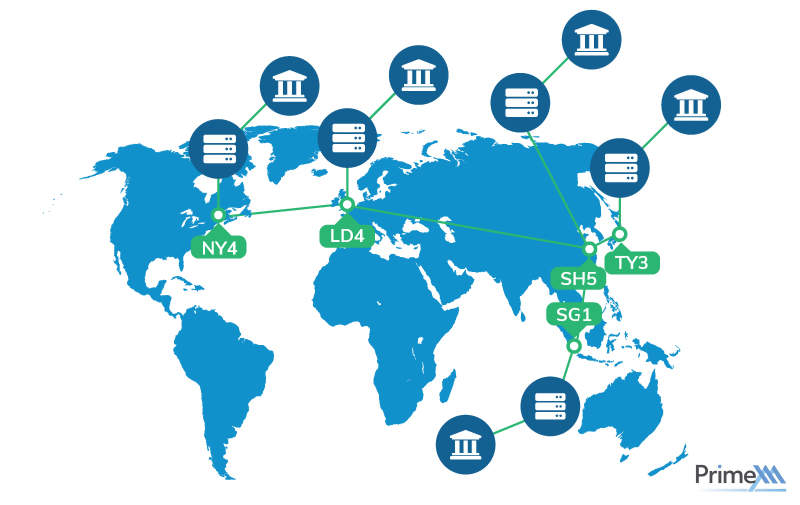 PrimeXM's bare metal servers aren't just high-performing; they're globally connected. Strategically located in key financial hubs, including LD4, NY4, TY3, and SG1, they offer a direct gateway to over 120 liquidity sources and a community of PrimeXM's 300+ financial partners. This ensures our clients are always in the heart of the financial world, whether they are accessing their cloud servers via AWS or Azure, leveraging their private cloud, or managing their rack space hosting.
Reliability and Speed
Reliability is a cornerstone of our service. With a commitment to maintaining 99.9% uptime, your trading operations are always on the go. Quick turn-up times, reduced complexity, and a robust infrastructure epitomises our service. And, for institutions seeking a managed hosted exchange or cloud private server, the trustworthiness and speed of PrimeXM are unparalleled.
PrimeXM's bare metal server pricing and hosted server pricing are designed with cost efficiency in mind. Our transparent pricing models ensure that you get the best value for your investment, making us a favoured choice for institutions looking to enhance their infrastructure while keeping costs in check.
Make the Switch Today
Choosing PrimeXM for your bare metal hosting means selecting performance, reliability, and connectivity. As you venture into the world of high-speed trading, trust PrimeXM to provide the robust and reliable infrastructure you need. Experience the future of trading infrastructure today with PrimeXM, where dedicated servers, global connectivity, and top-tier service come together. Experience our rack space hosting and let PrimeXM drive your success in the fast-paced world of financial trading.