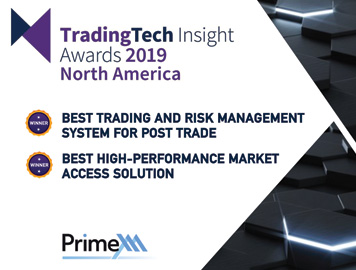 PrimeXM's XCORE receives multiple TradingTech Insight Awards
We are thrilled to announce that XCORE has been awarded the 'Best High-Performance Market Access Solution' and 'Best Trading and Risk Management System for Post Trade' by TradingTech Insight (TTI) Awards 2019.
The TradingTech Insight Awards recognize excellence in trading solutions and services for capital markets and focus on vendors and consultancies providing exceptional trading infrastructure, technology applications and market data solutions.
These awards are a testament to PrimeXM's unparalleled dedication in developing cutting edge intelligent technologies that drive the future of the finance industry. XCORE is currently one of the most widely used solutions, connecting financial institutions to global markets.
With more than 300 cross-connects around the globe, and an ever-growing XCORE Community of financial institutions, Exchanges, and other Liquidity sources that span across the world's financial capitals, XCORE has become the epicenter of financial exchange.
The versatile design and architecture of XCORE provide its users with endless customization options based on their needs and preferences. XCORE currently aggregates liquidity across an excess of 120 industry leading market makers, and supports multiple industry-standard interfaces such as MT4/MT5 and FIX API protocols, as well as PrimeXM's proprietary Web Trading UI. We are proud to keep pushing the envelope and thank all our loyal clients for their continuous support.
XCORE's solution enables systematic risk management, allowing you to internalize flow and manage exposure in real-time, as well as providing both real-time and post-trade reports for brokers, regulators, and back-office systems.
Here at PrimeXM, we would like to say a big thank you to all our clients for choosing our products and services and for your continuous support. Over the past decade, we have grown significantly and expanded our operations globally, pushing the envelope with our innovative technologies.
We are committed to our vision in providing you with cutting edge solutions that drive business potential.