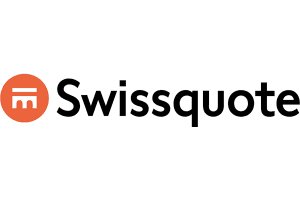 Swissquote Group Holding Ltd is Switzerland's leading provider of online financial and trading services.
Listed on the SIX Swiss Exchange (symbol: SQN) since May 29, 2000, the Swissquote Group has its headquarters in Gland (VD) and offices in Zürich, Bern, London, Luxembourg, Malta, Dubai, Singapore and Hong Kong. The Group currently employs 722 staff.
Swissquote Bank SA, via its online financial platform and its analysis & selection tools, is active in trading in equities, funds, bonds, warrants, and options & futures. The bank also offers services designed specifically for asset managers and corporate clients. In addition, the bank offers an electronic asset management tool, ePrivate Banking, as well as traditional banking services, including mortgages, savings accounts and more specialized transactions, such as currency trading (eForex).
SwissQuote Bank CH – located in Switzerland, regulated by the Financial Market Supervisory Authority (FINMA).
SwissQuote UK – located in the United Kindom, regulated by the Financial Conduct Authority (FCA).
SwissQuote MT – located in Malta, regulated by the Malta Financial Services Authority (MFSA).
SwissQuote UAE – located in the United Arab Emirates, regulated by the Dubai Financial Services Authority (DFSA).
SwissQuote SG – located in Singapore, authorized by the Monetary Authority of Singapore (MAS).
SwissQuote HK – located in Hong Kong, regulated by the Securities & Futures Commission (SFC).
The structure of the Group, which comprises Swissquote Group Holding Ltd and its subsidiaries, is designed to support the Group's operations within an efficient regulatory and tax framework.
We can help you identify the most sophisticated solution for your business and answer any queries about our products and services. Request a call back and one of our advisers will be in touch.