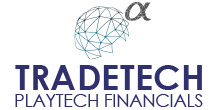 TradeTech Alpha is part of the TradeTech Group, the financial division of Playtech (LSE:PTEC), a market leader in the online financial gaming industry.
TradeTech Alpha specialises in providing B2B solutions to the industry covering liquidity, risk management, front and back-office, white label and omnibus systems giving our partners market leading technology solutions without any competition from its provider. TradeTech Alpha does not solicit business directly from retail customers and does not compete with its partners. TradeTech Alpha is run by industry veterans with years of experience in the industry and are always on hand to help create the perfect solution for its partners.
TradeTech Alpha Ltd is authorised and regulated by the Financial Conduct Authority (FCA), registration number 607305. TradeTech Alpha Limited is incorporated in England and Wales under company number 08663212 and whose registered address is at 11th Floor Broadgate Tower, 20 Primrose Street, London, England, EC2A 2EW
We can help you identify the most sophisticated solution for your business and answer any queries about our products and services. Request a call back and one of our advisers will be in touch.